Hello –
My name is Forest Vance. I'm a personal trainer, boot camp instructor, and fitness entreprenuer based out of Sacramento, CA.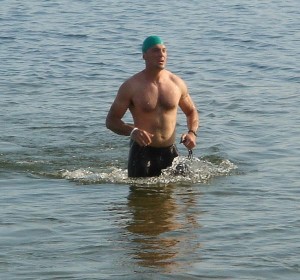 I've been working in the fitness industry full time now for almost a decade, but before I worked as a trainer, I was a pro athlete – and shortly after my career ended, I actually let myself get pretty out of shape.  At one point, I was tipping the scales at a whopping 310 pounds!
Thing was, I knew how to train like an athlete, to get into football shape – but I had no idea how to train 'regular folks' (which I now was me ) for weight loss and general health! I spent hundreds of hours studying – and hundreds more testing various methods on myself – to figure out the best, most effective, and most time efficient methods to lose weight, trim my midsection, and take the 'pain' out of dieting.
I ended up losing 64 pounds over the next 7 months – and this experience 'kick started' my personal training career.
I've now got almost a decade of experience in the fitness industry, multiple nationally accredited personal training certifications, and a Master's Degree in Human Movement. Most importantly, I've helped hundreds of folks just like you lose weight, strip belly fat, and learn to eat correctly.
Whether you're looking to lose weight, tone your midsection, or just get into great shape, I can help you reach your fitness goals. I look forward to seeing your around!
Forest Vance, MS, CPT, RKC
PS – If you'd like email updates from me with the latest fitness tips, healthy meal ideas, etc., in addition to a free sample of my No Gym? No Excuse! workout system, make sure to sign up for my weekly newsletter by dropping your name and email into the box at the upper right of the page!